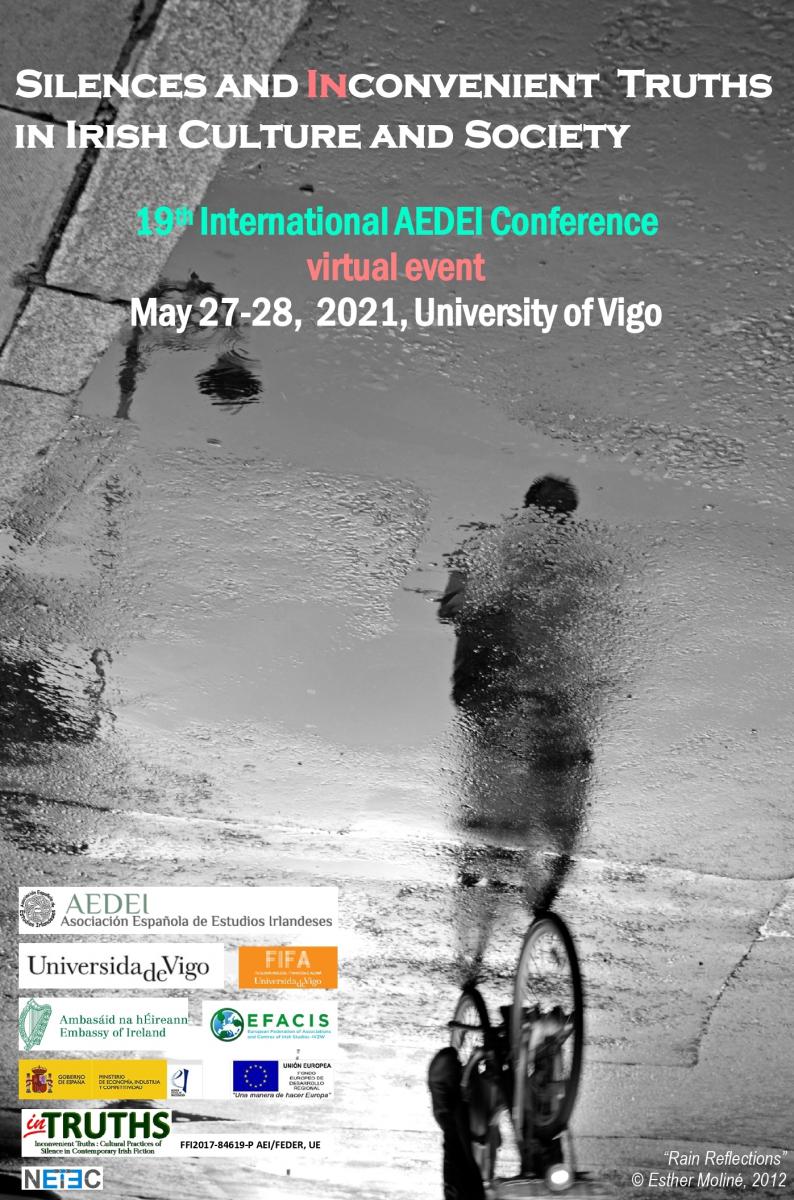 IN-TRUTHS RESEARCH TEAM
M. Teresa Caneda Cabrera (PI) University of Vigo
Marisol Morales Ladrón (University of Alcalá de Henares)
Asier Altuna-García de Salazar (University of Deusto)
COLLABORATORS
José Carregal Romero (University of Huelva) 
Elke D'hoker (KU Leuven)
Seán Crosson (NUI, Galway)
Eibhear Walshe (University College Cork)
CONTEXT
The groundbreaking emergence of some of the most subversive voices in the panorama of Contemporary Irish fiction is currently represented by writers who have concentrated on disrupting  the cultural practices of silence in contemporary Ireland where many forms of abuse, kept secret for a long time, have recently aroused public opinion on a international scale. In a recent address to the Parliament, in March 2017, former Prime Minister Enda Kenny, referring to the discovery of a mass grave with the remains of children at the site of an old mother and baby home, denounced that the Irish society was complicit with what he described as Ireland's "social and cultural sepulchre". For their part, many of the Irish victims and survivors of different forms of institutional abuse have complained that the official reports remain to this day filled with "omissions and inaccuracies". As the former Prime Minister's recent metaphor indicates, these "inconvenient truths" are deeply embedded in the Irish collective imaginary.
FOCUS
The inTRUTHS Project focuses on exploring how contemporary Irish writers have turned their attention to silenced stories and unrecorded truths which the normative/institutional discourses had suppressed because of their being "anomalies" diverging from the official truth. The project aims to flesh out the ethical implications of this form of writing as a privileged site of resistance to habitual cultural practices of silence.
AIMS 
The project's main aims are (1) to analyze, (2) to conceptualize, and (3) to categorize, the representation of cultural practices of silence in contemporary Irish fiction with the use of conceptual instruments derived from theoretical tenets of the innovative critical work of contemporary Irish Cultural critics such as Ferriter, Foster, Inglis, Kearney, Kiberd, Lloyd, Meaney and Patten among others.
HYPOTHESIS
Our hypothesis is that many contemporary Irish writers have adopted and developed discursive strategies of silence that paradoxically "speak" in their fictions. Contemporary novels tend to function as counter-hegemonic narratives subtly articulated through linguistic gaps, displacements, irony and ambivalence. The inTRUTHS Project draws on all this to explore the interrelations, similarities and dissimilarities of what we conceive of as the overwhelming presence of cultural practices of silence in the contemporary literary production of Irish fiction writers.
CORPUS
This hypothesis will be tested by means of a contextualized analysis of specific novels by representative writers such as John Banville, Sebastian Barry, John Boyne, Ciarán Collins, Evelyn Conlon, Emma Donoghue, Peter Cunningham, Anne Enright, Nuala O'Faiolain, Ann Haverty, Eimear McBride, John McGahern, Lia Mills, Mary Morrissy, Eoin McNamee, Deirdre Madden, Patrick McCabe, Belinda Mckeon, Keith Ridgeway and Colm Tóibín, among others.
IMPACT
The international impact of the inTRUTHS Project is guaranteed by the international trajectory of the Research and Work teams in the past few years and with a majority of reputed scholars in the field with international projection. At the same time, the team is all too conscious of its place and moment, its social implications and potential: Irish Studies has become a distinct and buoyant discipline in Europe, and particularly so in Spain. Therefore, as the Project directs its attention towards the internationalization of results, it also aims to establish links with other Research Projects and Groups in the field of Irish Studies on a national scale with a view to share synergies, strengthen links and favour cooperation in future research funding opportunities within the European and international frameworks.